Now that we're into a New Year, one of the top resolutions on everyone's list is to get organized. And where better to start, than with your home? This guide shows you how to easily organize your home and de-clutter your living environment. Not only will it make your house look neat and tidy, increase your ability to find items quickly, help you more easily stay on top of basic chores (since they won't become major projects), and provide you with a heightened sense of peace and tranquility (which is vitally important, since it's your place of refuge).
Here are a few products to help you easily organize your home: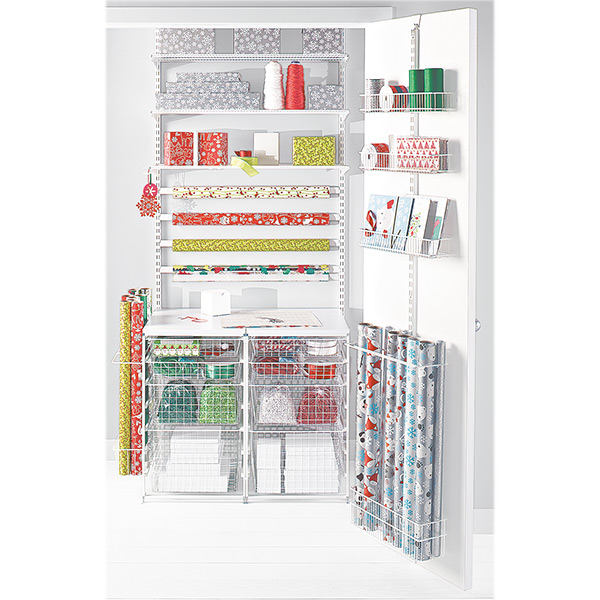 Bombarded with excess holiday gift wrap, bows, and bags? No problem! The Elfa Wrap Closet comes complete with shelves and drawers that provide plenty of storage, while the melamine tops create a spacious wrapping surface. Rolls of wrap are kept neat and easy to access – there's even more storage on the door, thanks to our elfa Door & Wall Rack.
Everyone loves collecting music, but sometimes storing CD's can be a challenge. Made from flexible plastic, the Hold N Storage boxes feature a translucent body that lets you view and identify their contents, even when closed. Each box contains a chrome identification insert sleeve that lets you label the box to reflect the contents. Great for the office, dorm rooms, or just around the house. Each box holds 28 CDs. Discover the many ways to organize your music collection with these fun colored CD organizer boxes!
For most people, organizing a closet can be tricky, especially when space is limited. Fortunately, the Hold N Storage Spacemaker Bags help you pack away out-of-season items, while still preserving the quality of your garments. These Vacuum packs by Whitmor are sealed storage bags for storing everything from large seasonal clothes to linens and comforters. Stay organized and add to your storage space. Whitmor Vacuum Packs protect your clothing from dirt, bugs and other irritants. These units are reusable which makes them an excellent value.
From vintage heirlooms to contemporary pieces, jewelry collecting is a popular hobby for most fashionistas. The best way to ensure your treasures last for years to come is to store them in a quality jewelry chest. The Gift Boutique jewelry chest features crocodile-embossed leather exterior and interior trim, faux suede interior lining, and hinged gold-tone side handles. Interior contains divided compartments and 6 drawers (3 small and 3 large); which makes it ideal for storing everything from rings to bracelets and more. And for extra security, this chest can even be locked.
Have extra blankets or miscellaneous items, but no where to store them? This trendy Udder Madness storage ottoman will do the trick. This versatile piece can work as a footstool, bedside table or end table in your living room, home office or bedroom. It has plenty of space inside to stash a blanket, magazines or your current craft project. It's hand sewn and upholstered with soft fabric and accented with brass nail buttons, making it both eye-catching and multi-functional.