With Christmas just a few days away, now is the perfect time to determine what to wear for Christmas. Whether you celebrate the holiday by attending a church service with loved ones, enjoying a casual home-cooked meal with family, or getting all dolled up to go to out to dinner with close friends, there's an appropriate and stylish outfit for you. Here are ensemble options, ranging from cozy and chic to sophisticated and striking.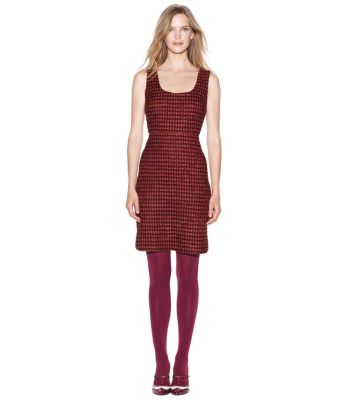 Perfect for attending a church service, this Tory Burch dress is woven in pretty plum and berry hues with shots of metallic thread. The Victory Dress puts a feminine twist on classic tweed – and is one of this season's standouts. Featuring a sleek, waist-nipping silhouette, it looks richly modern when paired with a velvet blazer, opaque tights, and heels during the day, or with some sparkling jewelry for evening.
The brand known for celebration ready attire, this Alice + Olivia dress is party-perfect in metallic tweed. Ideal for attending an over-the-top holiday party (where style matters) or dining at a trendy, upscale restaurant, Elise dress is created from metallic tweed featuring fringe trim, an elegant high scoop neckline, cap sleeves, and A-line skirt.
The soft drape and decadent feel of this luxurious and comfortable tunic length cashmere sweater is the perfect look for a cozy, at-home Christmas dinner with the family. Featuring a round neck, long sleeves, ribbed cuffs and hem, this sweater is available in a range of shades, including black and magenta. Pair it with bold jewelry, dark skinny jeans and knee-high equestrian boots for a casual cool look, or dress it up a bit with a graphic print skirt, dark opaque tights, and suede ballet flats.