Elsebeth Mousten is the designer of an incredibly charming (and unbelievably affordable) handmade accessory line that includes a range of whimsical patterns and fabrics, from bold contemporary graphics to vintage-inspired florals. 
Originally from Denmark, when Elsebeth moved to the United States with her husband and two children, she knew she wanted to delve into artistic pursuits (having been a creative and crafty person her entire life), which led to designing and creating handmade products. Last fall she started making Christmas ornaments, and was so inspired, she decided to open a shop on Etsy (just three months ago). 
Realizing that every woman needs a purse, she quickly expanded her line by creating handbags, clutches, and totes. She started looking around and found some shapes and frames that she liked, and then brought back a lot of fabric from Denmark (during a holiday trip). Elsebeth "loves fabric with a clear pattern" and is "inspired by nature, flowers, the beach, and (her) kids." She is especially inspired by Danish, Scandinavian, and Nordic design for it's "clean, clear, modern" aesthetic. But she says she's also a "big romantic", so she tries to mix that in too.
Her line is quickly gaining recognition amongst fashionistas and Etsy customers. In response to all the positive feedback and consumer interest, Elsebeth says she is "just really humbled", because she is just doing what she really loves.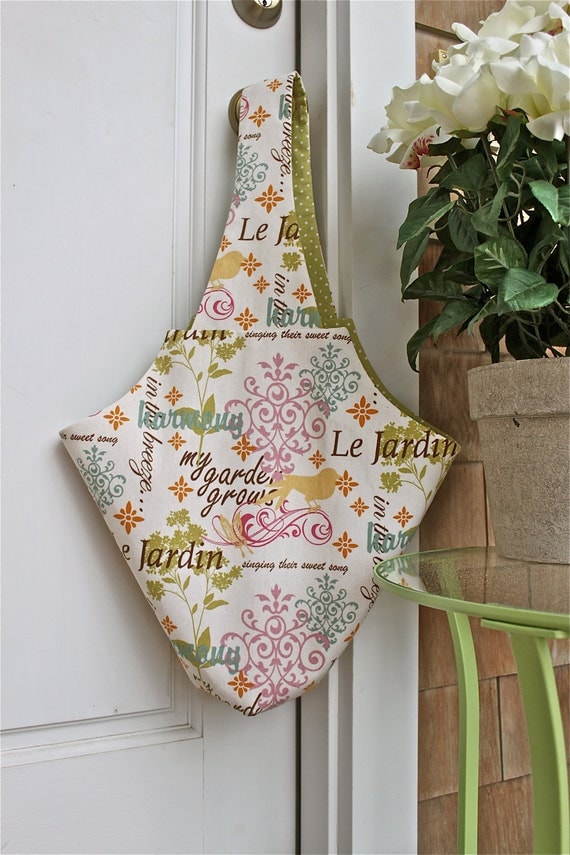 This large bag/tote is a great size for shopping, a day at the beach or just every day use. It is accompanied by a matching coin purse, which could also make a sweet present. It is made of cotton, has several layers of interfacing, and is nicely lined with a matching fabric. Colors are off white/cream, pink, green, yellow, light turquoise, orange and the text on the fabric is braun. Appx. size of this reusable bag is 16.5 " wide (42 cm) and 15.5″ tall (39 cm) without the shoulder strap. The bottom of the tote is 5″ wide (12.5 cm).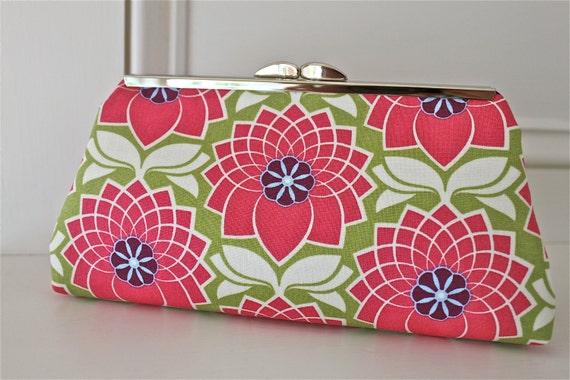 This clutch is the perfect size for a night out on the town, attending a wedding, as a gift for your bridesmaids or for a special friend. 
Made of designer cotton from Joel Dewbery in pink, purple and green colors, the purse is nicely lined with a matching cotton and several layers of interfacing. The frame has a contemporary look and is made of silver nickel. 
Appx. size is 6 3/4″ across top (17 cm), 9″ across bottom (23 cm), 4.5″ high (11,5 cm) and 3″ deep (7,5 cm). 
Easily fits your cell, credit cards, a little makeup and keys.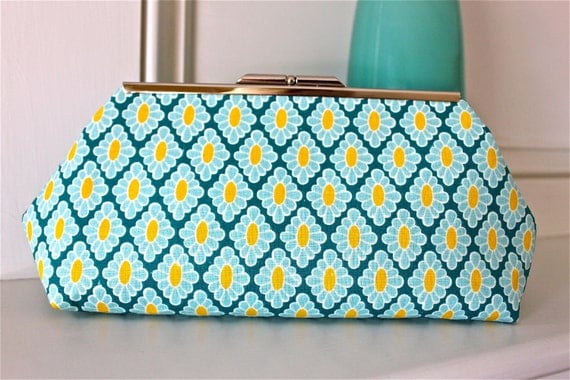 This clutch simply says spring and summer, and is ideal for any occasion, since it can be paired with jeans for a casual daytime look or dressed up with heels for evening. The purse is made of Scandinavian designer cotton in a vibrant turquoise and yellow color combo with a modern floral pattern. Nicely lined with same fabric as used on the outside and it has several layers of interfacing. The frame is a modern style made of silver nickel. Appx. size is 6 3/4″ across top (17 cm), 8.5″ across bottom (21.5 cm), 4.5″ tall (11.5 cm) and 3″ deep (7.5 cm).
Sponsored Post